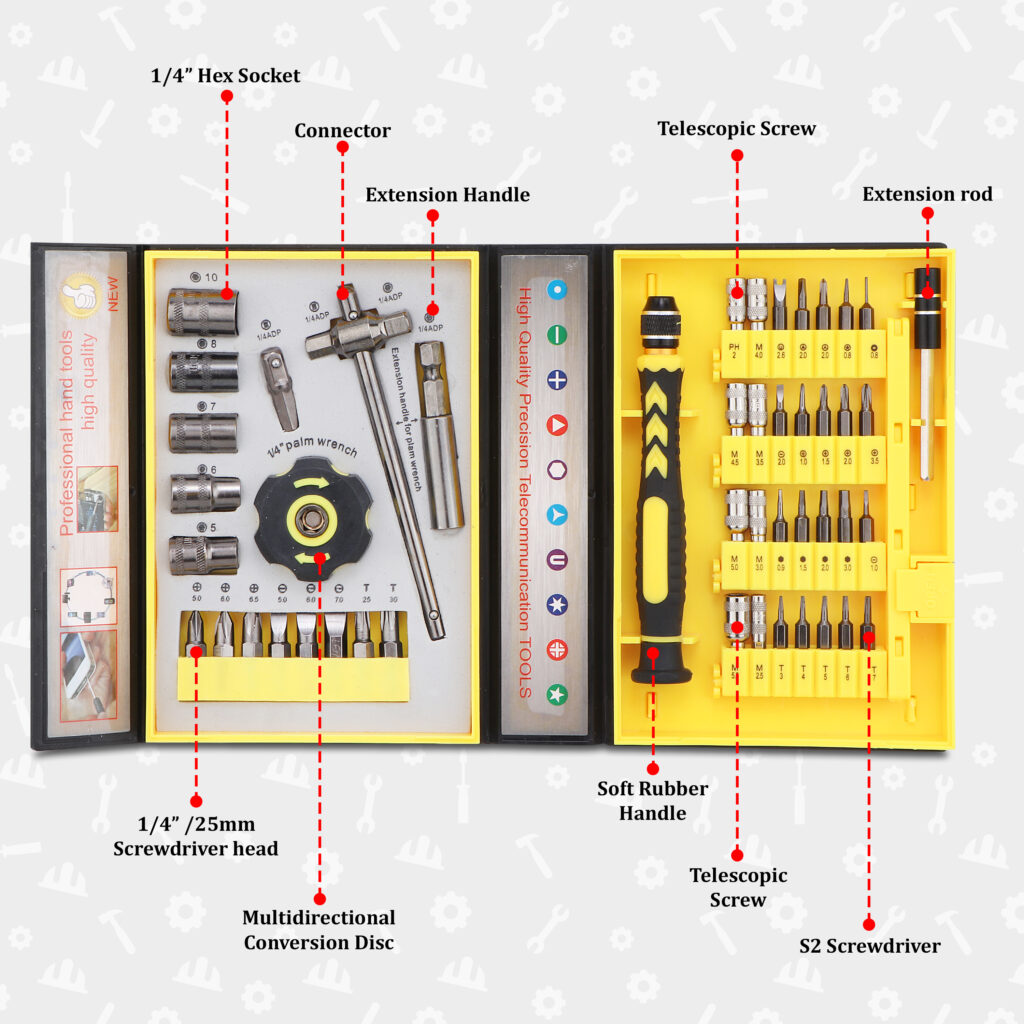 pro series multi-purpose screwdriver 47 in 1 precision metric torx hex socket bits set
Screwdriver handle material is PP, non-slip, removable screw cap; non-slip tough shaft to ensure greater comfort and convenience
Durable compact design: All tips are made of chrome vanadium alloy steel and are specially heat treated; all of these compact designs give them high hardness and good toughness
Lightweight – Professional portable hardware tools, perfect weight and compact design and plastic storage box for easy carrying and storage
Ergonomic handle provides sufficient torque and is magnetized by rotating the top of the ball bearing
47-in-1 precision screwdriver set for most mobile phones on the market, computers, game consoles, tablets, watches, glasses, etc.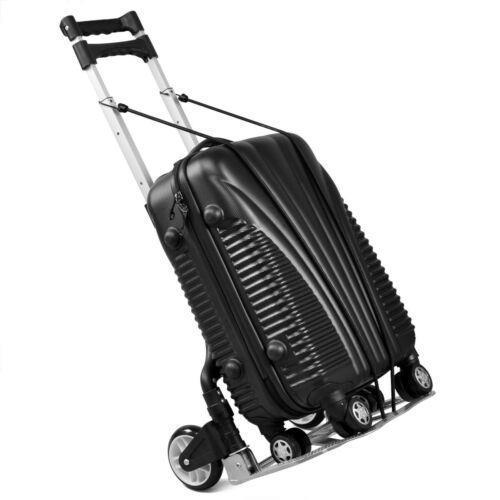 75 KG Trolley Heavy Duty Lightweight Folding Hard Truck Multi-function Cart
SUPERIOR QUALITY: Constructed from aluminum alloy and premium PP, corrosion-resistant and rust-resistant. It can easily hold up to 75KG / 75kg, help you to handle and move heavy objects, save your energy and time
STRONG AND STURDY: It's stable enough, the wheels are big and can roll on rickety, rough gravel roads. There is an elastic rope with two hooks to secure your luggage in place, so it is not easy to shake when pulling
CONVINIENT AND COMPACT: With 39.5 x 6 x 63 cm inches folded size for easy storage, it can be placed in a luggage or carrying case. The lightweight hand truck is very convenient for shopping, traveling, airport station, school, house, office, etc.
ERGONOMIC DESIGN: Telescoping handle allows you to adjust the height from 16 inches to 28 inches to meet your different needs. The smooth rolling wheels make the truck extend freely, less noise and more durable. Add lubricating oil regularly to the movable joint of pull rod, the effect is better.
EASY TO USE: No assembly required, very easy to fold or unfold in seconds. Step on the base plate, load the cart, fasten the items with the expander rope, hold the items with one hand, grab the handle with the other hand, pull the handle to the height you want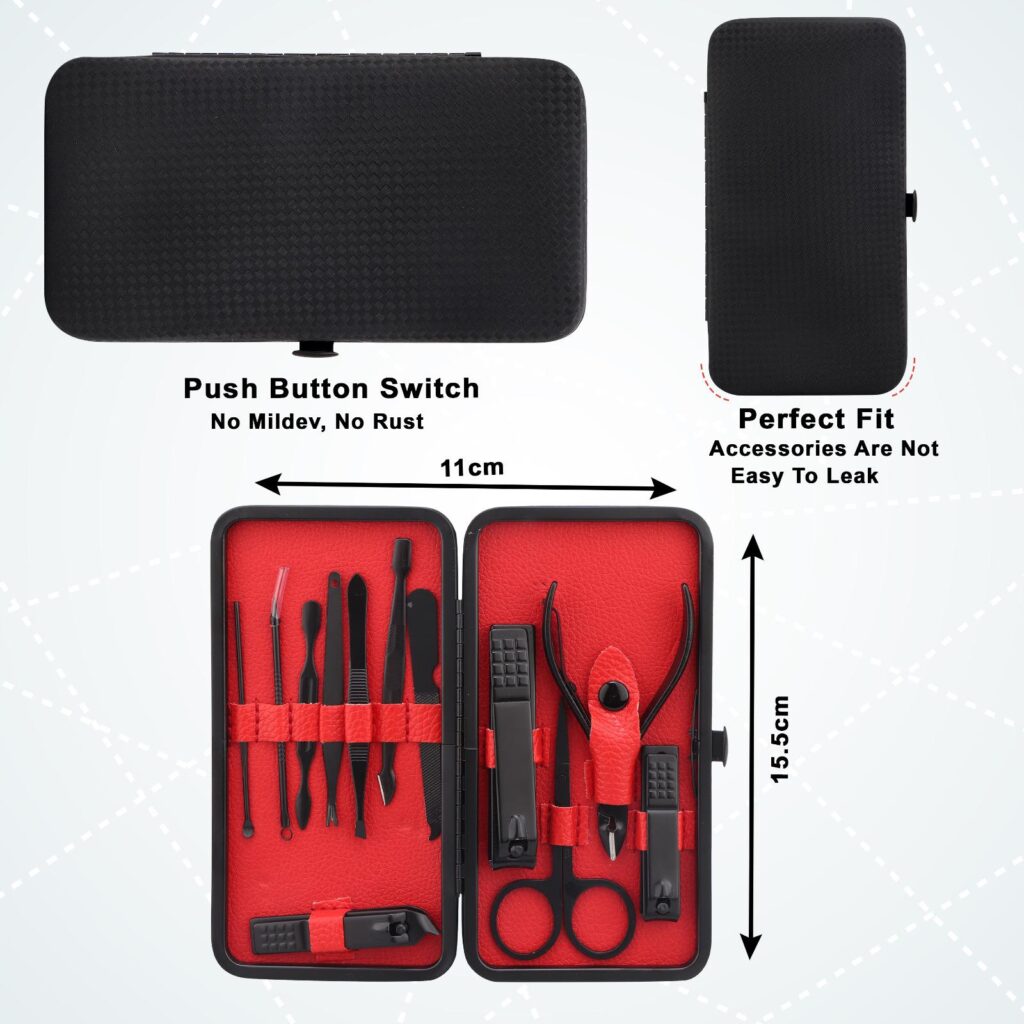 Manicure+Pedicure Kit in luxurious leather travel case
Do you want to own a manicure set which don't occupy space when you travel or at home? Our Nail Clippers set designed with a portable size, you can put it at anywhere you want, such as handbag, car, luggage, office and so on, great for travel or at home.
The function of most manicure set is centered on trimming nails, and our set has a variety of functions including hand care, foot care and facial treatment, each tool is elaborately made and can meet your all kinds of care needs in daily life, one set in the hand, living at ease.
Included in this 12 Piece set are 3 x nail cippers, 1 x Nail Polish Pusher, 1 x V-shaped Cuticle Remover, 1 x Nail Cleaner, 1 x Nail File, 1 x Nail Cuticle nipper, 1 x Eyebrow scissors, 1x Eyebrow Tweezers, 1 x Ear Wax Remover, 1 x Blackhead/Acne Needle and Loop Remover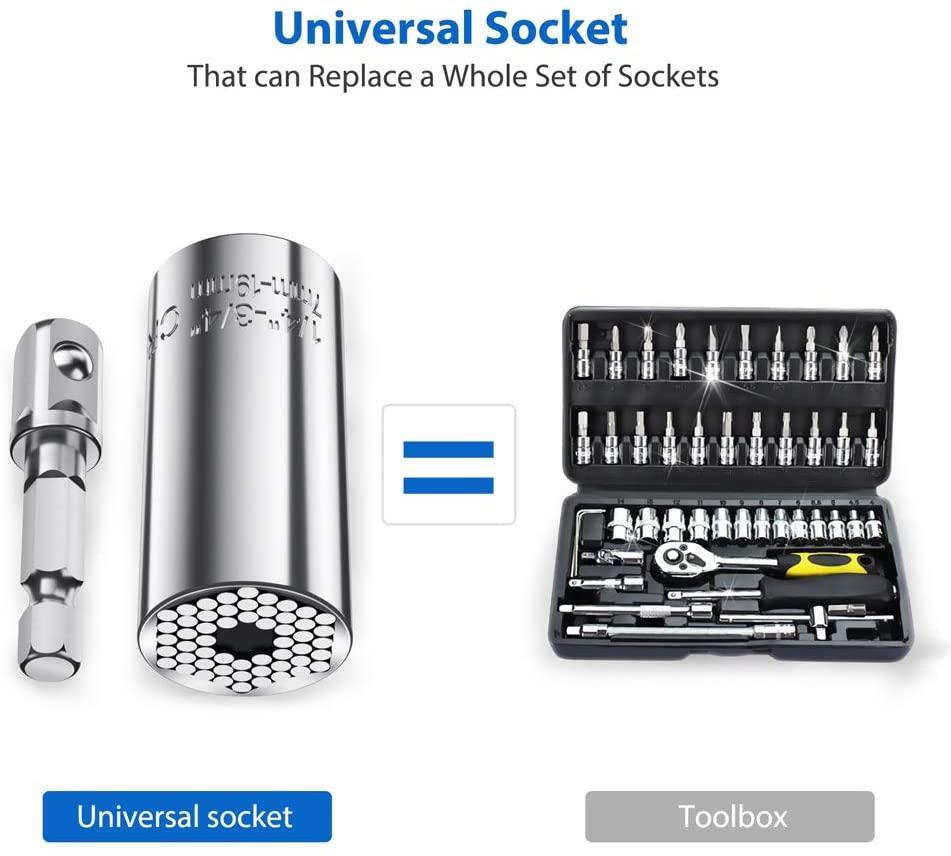 Universal Socket Wrench 7-19 mm Spanner Multi Function Tools Set Repairs
Multifunctional: this universal nut can be disassembled different shapes nuts, screws, hooks, screw heads and wood screws. Equipped with adapter, it can easily be used with most electric drills.

PROFESSIONAL: universal socket spanner grip 7 mm to 19 mm. Can be used in the automotive industry, household care, manufacturing industry, construction.

High quality: it is made of the highest Chromoly steel and has 54 pins with a solid core.

Easy to carry: easy to carry and store, perfect for maintenance at home, construction sites, car repairs, production lines and other

Refund external case: if you have any problems with using the product, please do not hesitate to inform us. Contact us in 35 days for full refund or exchange.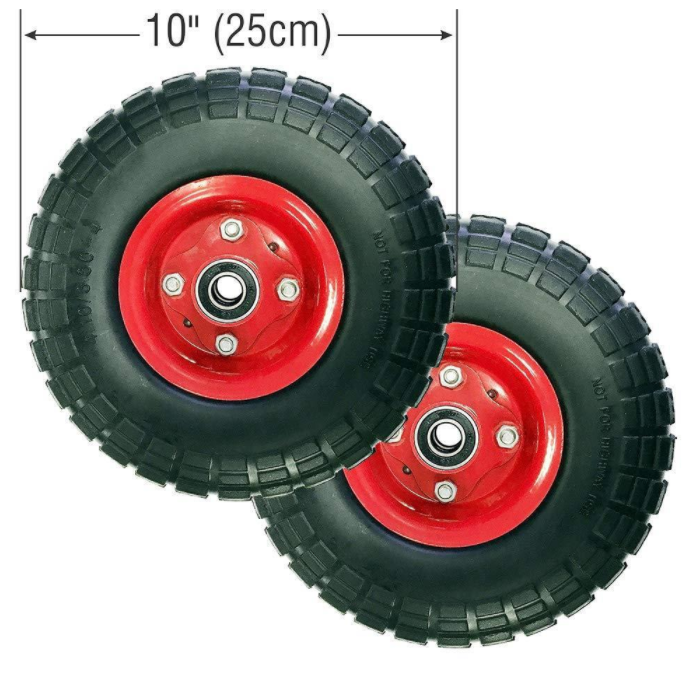 2 x 10″ Tyre Pneumatic Sack Trolley Puncture Proof Tubeless Wheel Barrow Foam Tyre
Hub Type: Classic Tyre Size: 3.00 – 4 Colour: Red Tread Pattern / Type: Tarmac Road Legal?: No Inner Diameter of Axle Hole: 16 mm / 0.62 inches Tyre Outer Diameter: 260 mm / 10.24 inches Length of Central Hole: 48 mm / 1.88 inches Tyre Width: 74.05 mm / 2.92 inches Length of Hub: 120 mm / 4.72 inches Maximum Load: 136 kg
Heavy duty Polyurethane (PU) Wheel and Tyre for Wheelbarrows. Inside the tyre is solid foam which makes the wheel tyre combo puncture proof and highly durable. Industrial grade plastic wheel and PU tyre for commercial applications.  Comes complete, no assembly or strip down of old wheel required, simply replace the old wheel for this new one. Suitable for hand truck, barrow truck, stabiliser, guide roller, hand cart. Ideal for trolley or platform wagon, in conjunction with swivel or fixed castors.
Tyres: Foam
100% Brand new & high quality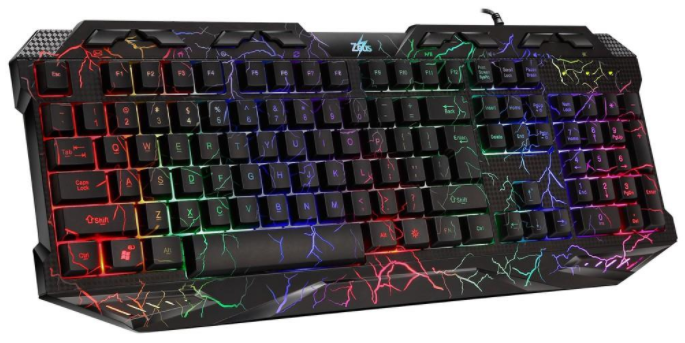 UES-G1 Live4Gadgets Multimedia Illuminated Ergonomic Design Backlit Wired Gaming Keyboard
The keyboard panel was made of great ABS material, with matte-finish texture, sturdy enough to protect it from scratch. Ergonomic design reduces hand fatigue.
Built-in Stable Stand The gaming keyboard provides a stable stand for people who want a bit adjustment of the height of the keyboard when they play games or type.
Plug & Play With 1.6M USB wire, widely compatible with Windows/PC/Laptop/Desktop/Surface/Chromebook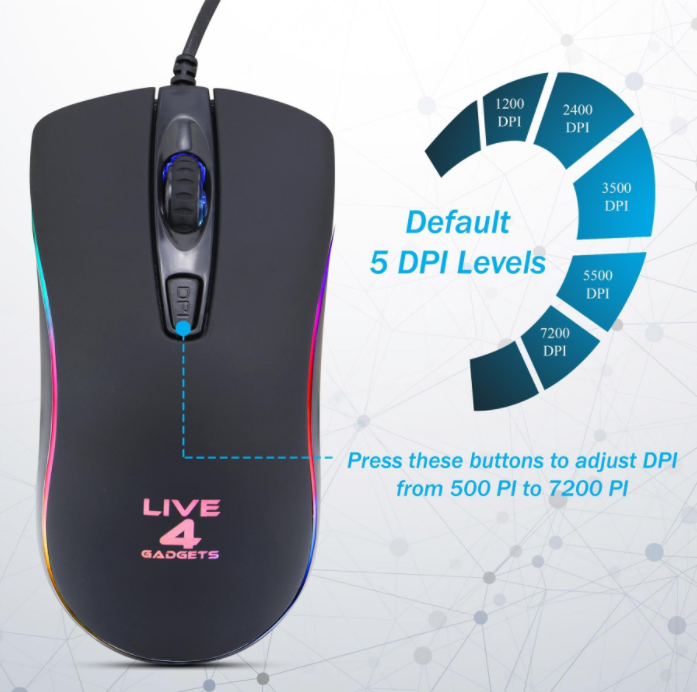 Rainbow RGB LED Gaming Mouse USB Wired 4 Button 6400 DPI Mice Gamer
Up your game with this ergonomically designed gaming mouse. RGB backlighting in 6 colours and 4 adjustable DPI levels (1000, 1600, 3200, 6400) mean you can make the mouse your own, perfect for your set-up, and switch between games and situations at the push of a button – short range to sniping, MOBA or battle royale, the mouse is ready when you are.
A 20 million cycle switch life ensures long-term reliability and the plug and play USB connection makes it suitable for multiple gaming platforms.
Features
6400 DPI with 4 level adjustable switch – 1000, 1600, 3200, 6400
6 RGB Backlight modes
Ergonomic design with side-grips
Plug and play – just plug in the mouse, no additional drivers required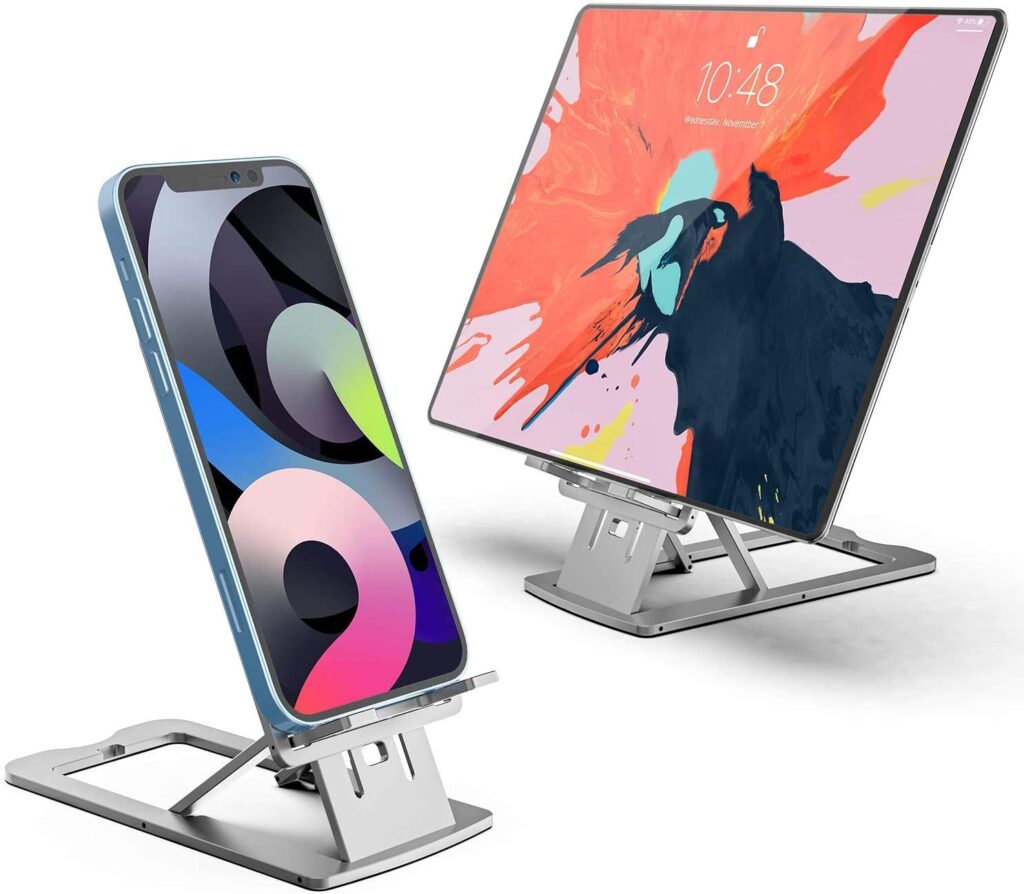 Mobile Phone Portable Stand Desktop Holder Table Desk Mount For iPhone iPad Tab (Silver)
Adjustable in Height & Angle Mobile phone stand adjustable at 0°-70° multi-Angles, choose the best viewing angle to watching videos, playing games. The desk tablet holder has two alternative heights with ergonomic design. A great desk accessory for working in office or at home.

This portable iphone stand mount can fold in one piece. its portable and light to carry along to standing your phone at any time and ideal for travel.

Elegant & Reliable Sturdy aluminum alloy with elegant smooth edge and sleek design, Non-slip, firm grip tabs and liners protect the phone from scratches and sliding. Cool metal tablet stand matching iPad and other tablets up to 12 inches.

Wide Compatibility Universal phone dock for smartphones and tablets between 4~11 inches, such as iPhone 12 Mini, 12 Pro Max, 11 Pro, Xs, Max, XR, X, 8, 7, 6, 6s Plus, iPad Air, iPad mini 1, 2, 3, 4, SE, 5, 5s, 5c, 4, 4s, Switch, Samsung Galaxy S10, S9, S8, S7, S6, Note 6 5, LG, Sony, Nexus, Apple phones.

Convenient in Use: The Cell Phone Desktop Stand supports thickness up to 12mm, so no need to take off most phone protective cases. You can also charge your devices while standing with the dock. A simple phone stand offers maximum convenience.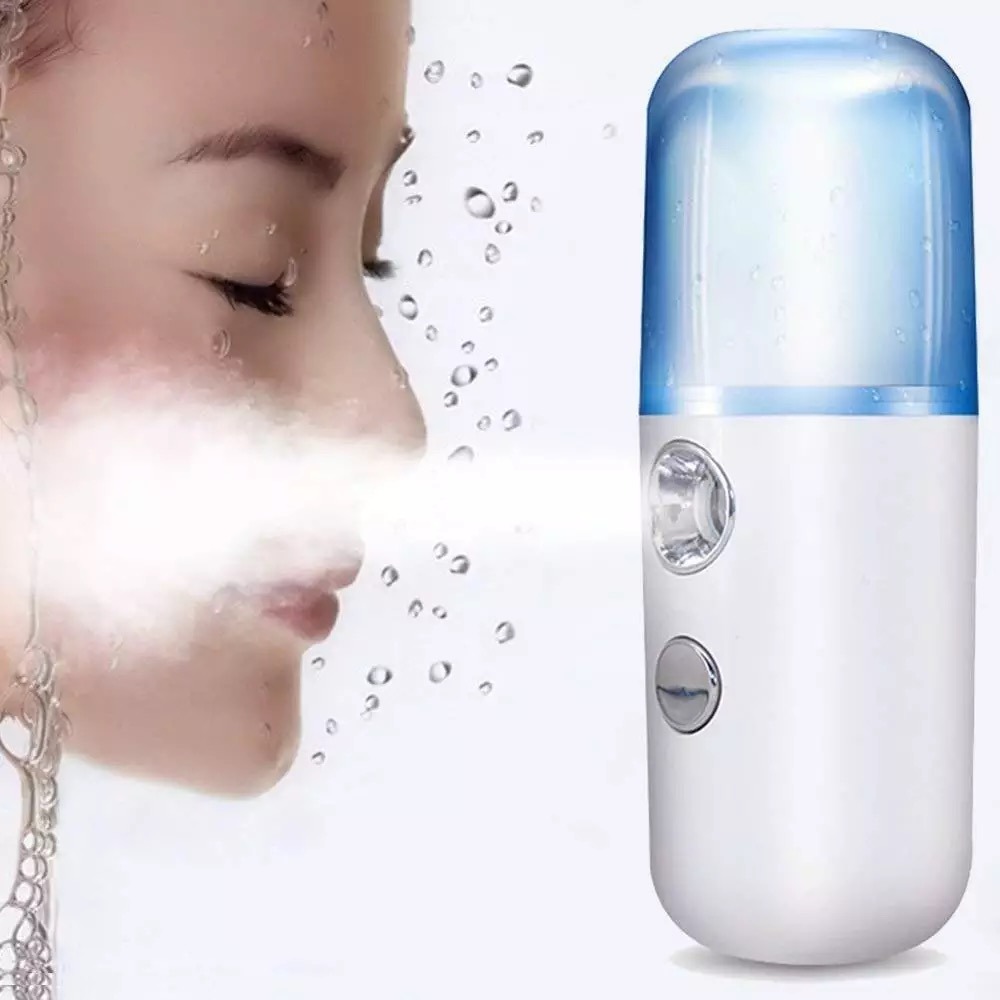 nano facial mister handy moisturizing usb rechargeable (30ml)
Moisturize and refresh your skin:

 This pocket-size facial nano mist steamer is used for face, body and hair. Suitable for all kinds of skin, it is perfect for keeping your face hydrated and healthy.

Restoration:

 Using facial mask and facial massage will stimulate the skin after sunburn. Turn on the product for a few minutes, skin will recovery fast.

Use all seasons:

 This handy portable face steamer sprayer makes you feel relaxing and cool on a hot day, and helps the skin stay hydrated during the winter season.

USB Charging & simple to use:

 Just fill it up with water, push down the switch, it automatically sends out a nice mist. The handy steamer is mini size, you can put it in your handbag, purse, schoolbag and even pockets and use it anytime for a quick little hydration boost of your skin.

30ml water tank:

 A box of water can be used more than 8 times with large amount of mist. A single charge can spray about 50 times.